I'm a writer of Dreaming Foxes which is a website sharing about SEO tips, Amazon FBA strategies and training. Sometimes you would see some affiliate links that'd help us to pay for servers and domains to keep sharing experience.
KeywordTool.IO (FREE & PAID)
This is the tool I found very useful when I have an idea came up in my mind. KeywordTool.IO is really powerful when catching ideas for you to start selling on Amazon.
Screenshot: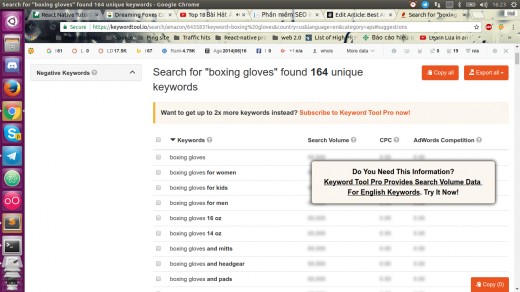 As you can see on the right side, you could copy all the keywords, or export all them to csv or excel extensions which is really helpful to continue research with other tools.
And not just Amazon, you could research eBay, Google, Bing keywords here too. Even AppStore.
More amazing that you can choose the specific countries, languages for more accuracy. This is really good for local SEO, right?
Keyword.IO (FREE & PAID)
This is another awesome tool that I want to introduce to use. It's an online keyword research tool. In my opinion, this is more functions than keywordtool.io. Not just ebay, amazon, etc. You can research with even alibaba, fiverr which is really helpful for affiliate marketers.
One feature that I think it's interesting which is select keyword to export. And If you don't know which seed keyword to start searching, you can find ideas with it by typing anything such as your hobbies, interest.
Soovle.com (Free)
If you don't have any idea to start your business, soovle might be the thing you're looking for. It helps you fetch ideas from most popular search engines like Google, amazon, youtube, bing, etc. Just type anything in e.g., "boxing"
Amazing, huh?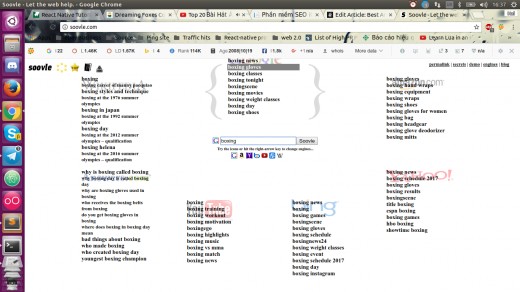 BlackBird Suite ($97)
This is brand new set of tools for amazon business. With it I think you can save a tons of working hours and money. Why?
Are you frustrated of research keyword and products on Amazon?
Are you exhausted because people complain about your services all the time, and review 1-2-3 stars? It affects your business, right? And you don't know how to solve this.
Are you wasting so much time for split tests?
Sometimes you got stuck, and don't know which way to go, which one to ask?
Even tracking your CTR and sales is tough, right?
Those things, BlackBird Suite have all that. With BlackBird you can easily satisfy your negative customers which have just put a negative review on your product. Tracking sales and CTR is never easy like that. Split tests? So simple with BlackBird Suite Chrome extension that is developed by top developers.
If you're a beginner, never doing anything that's involved Amazon, and you still want to do it. That's alright, BlackBird has step-by-step tutorials to teach you how to make passive income stream on Amazon.
The best part, it's called "Grab a Guru" which is really powerful and I think none of the services on this field could do that. Just a button-click, you could message to a guru to ask anything about Amazon business, to solve your problem. This could worth thousands, not just $97.
I make a full review about this product on my website Dreaming Foxes. If you want to read more information about it, click to the link above.
Thank you for reading my blog.